Dear Overseas Customers
Thank you for your interest in our studio.
We appreciate the opportunity to be your satellite studio in Tokyo, Japan that make it possible for you to do voiceover and narration recordings with real time communication over skype where you can direct and check the recordings at your office without travelling to Tokyo.
Our experienced English speaking engineer will get the right sound for you and support your project to be.
How can you book our studio?

1. Please send us your email (dogenzaka702@voicework.jp) with the details of your project, desired recording date and time, preferred narrators from our list of registered narrators and your Skype ID we can reach.

2. We will confirm schedules and narrators via email.
3. On the recording day, you will be contacted from on Skype, where you can monitor a recording and give direction to the narrator in the booth.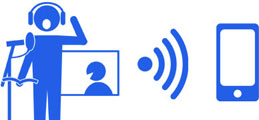 4. After recording is done, please proceed payment. We use [payments by email] of PayPal. Please proceed payment of the amount following attached invoice. Following credit cards can be accepted.
I'll add and charge you 4% of the operational price (including tax) total amount as a handring charge.


5. As soon as we confirm your payment, we will send you a email with the link you can download the recording data.
If you have any questions, please feel free to contact us at
dogenzaka702@voicework.jp